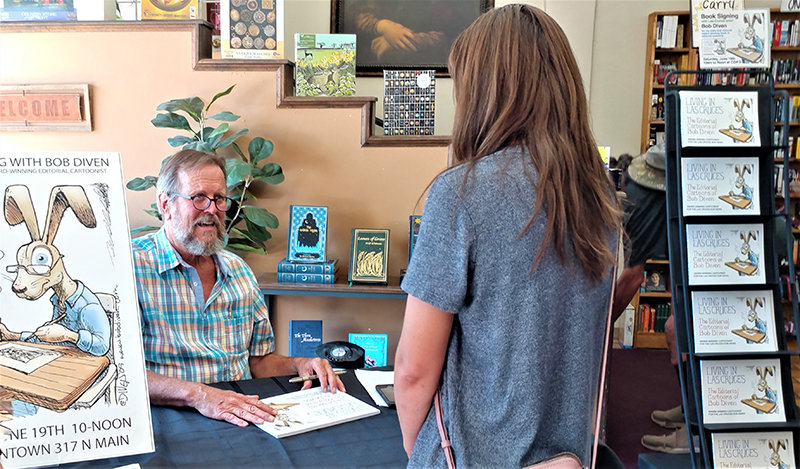 Four other authors are taking part in this year's "Celebrate Authors" event
By Mike Cook
The line-up for this year's "Celebrate Authors", which will take place on Sunday, September 19 from 2pm to 4pm, in the boardroom and Roadrunner Room on the second floor of the Thomas Branigan Memorial Library, 200 E, has been extended to include additional local authors expanded. Picacho Avenue.
The event is free and public.
Moonbow Alterations and Moonbow's Book Nook are sponsoring the event.
Celebrate Authors 2021 includes writers from Las Cruces and the surrounding area with books published in 2019, 2020 and 2021. The event started in 2014.
Here are the latest additions to this year's event.
Alexis D. Johnson is a fantasy writer with a penchant for mythical creatures, enchanting worlds, and believable characters full of weaknesses and strengths, according to the author. She grew up in Las Cruces and now lives with her husband in El Paso.
Her book is titled "The Seventh Year Trials" and is the first in a fantasy adventure series for young adults "for readers who love heart-stealing dragons, memorable brother-sister bonds, a little slow-burning romance, and a mixture from "Goblet" from Fire / Hunger Games' like dragon contests, "said Johnson.
Johnson said of her book, "If her father finds out she's secretly raising a kite, he'll kill him … maybe even her. Mirren Calia's greatest ambition is to avoid the temperament of her lumberjack father. But when a dragon's life is at stake, you look up. There is only one way she can save them from starvation: compete. When the charming son of a lord sees potential in her skill, she can't help but wonder if it's real. Desperate decisions must be made with the prestigious Seventh Year Trials – a series of insidious dragon riding competitions for the nation's richest youth. But she is not a member of the elite, and a vengeful ex-nobility is determined to win at any cost in a game of its own. "
"Persistence is the key," advises would-be writers. "Always strive to learn and grow by exploring the people, the world and the ideas around you."
Ann C. Salmi was born in Chicago and moved to New Mexico in the 1950s. She received a Bachelor of Fine Arts from the University of New Mexico and a Master of Arts in teaching from New Mexico State University.
"Between my studies, I spent three years in Mexico City, dancing with the Ballet Folklorico de Amalia Hernández, and another two years in the Peace Corps Guatemala to help build rural schools," said Sallemi. "I spent my teaching career, briefly and without exception, in Canutillo, Florida and South Carolina. Retired for more than 20 years, I spent most of my time in front of the keyboards – those of my computer and grand piano. "
In Salemi's book "Die Mausefalle", Maria Ofelia Orongo Chiu, who recently received her PhD in zoology, tries "to create a distance between herself and her ex-husband Jullian. However, Ukraine turns out to be not far enough. Julian finally arrives, only to find one trap after another waiting for him. Intrigue and silliness end each of their journeys satisfactorily. "
"I write because an invisible muse is constantly filling my head with words," said Salemi. "I am forced to be careful. Soon the characters have taken over and make their own claims. My best advice to young writers is: read, read, read. You will find your own voice by recording that of others. And PS, you're never too old to start! "
Michael Potts is an award-winning poet, songwriter, and published storyteller. Born in Artesia, New Mexico in 1951, he grew up in Las Cruces. Potts attended school here and married the love of his life, Kathy. Potts' poems have been published in the National Poetry Library "Tomorrow's Dream" and his poem "Alzheimer" reached the semifinals of the National Amateur Poetry Competition. Potts won third place for Senior Writer in a poetry competition in Queen Ann County, Maryland, for his poem "The Apple Tree".
Potts' latest unpublished book, Strights of Thistlekirk, is set in Baltimore and Paris in 1787. The United States is a new country and France is on the verge of revolution. Cornelius Stright's youngest son, Robert, 23, continues to bring shame to his family and is therefore sent aboard the schooner Kathleen, under the guidance of Captain Dodd, to learn to sail and become a merchant. His meeting with Theresa Camille Benoist Desmoulin leads to intrigue and adventure that continues in other novels, Potts said.
"I love creating these characters and I find it exciting to bring them to life," he said. "I would advise every new author to just put a pencil on paper and let your imagination run wild and create."
Bob diver is a writer, artist, actor, composer and playwright, originally from Illinois, who has lived and worked in Las Cruces for many years. He has been a professional visual artist for more than 40 years.
Diven's book "Living in Las Cruces" is a 12 "by 9" soft-cover book containing more than 300 editorial cartoons along with comments from its editors at The Las Cruces Sun-News. The cartoons are categorized by keyword, from agriculture to city government to all four seasons, he said.
"I had two reasons for putting this book together," said Diven. "The first was to share the best of my 13 years of editorial cartoons in one volume and the second was to simply let the book exist as a document of the life of our city."
Diven said his advice "for anyone looking to publish their own book is to find a few trustworthy people to proofread your work. Good editing and proofing is both underestimated and difficult to find. I was fortunate that, as a graphic designer, I was able to make the book exactly the way I wanted it. I paid for an extra printed proof or two from the printer because there were flaws that were only seen in the actual book and could easily be missed on a computer screen.
"I was also fortunate to have won first place in the New Mexico Press Women national competition and second place in the National Federation of Press Women national competition for adult humorous nonfiction," said Diven.
Visit www.bobdiven.com.
For more information, contact Joy Miller at [email protected] Contact Alice Davenport at 575-527-1411 and [email protected] or visit her at Moonbow's Book Nook, 225 E. Idaho Ave., No. 32.