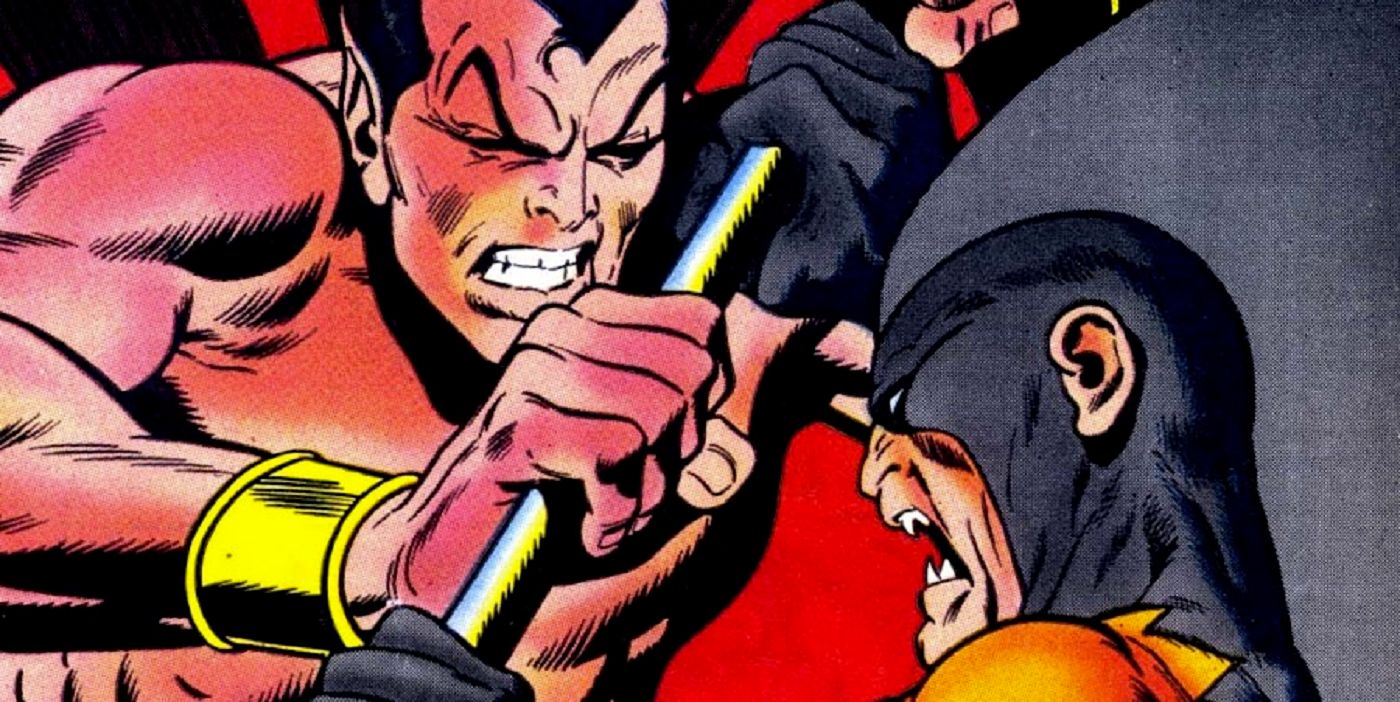 How a font confusion almost gave a Namor comic a bizarre ending
At latest Comic Legends Revealeddiscover how some confusion caused by the letterer Sub Mariner almost led to a bizarre ending to a problem
Welcome to Comic Book Legends Revealed! This is the eight hundred and seventy-fifth part in which we examine three Comic Legends and determine whether they are true or false. As usual, there will be three entries, one for each of the three legends. This is the final installment in a series of installments, all of which focused on Namor, in honor of the historical Marvel character who made his debut in the Marvel Cinematic Universe. click here for the first legend in this episode. click here for the second legend in this episode.
NOTE: If my twitter page Reached 5,000 followers, I'm doing a bonus issue of Comic Book Legends Revealed this week. Great thing, isn't it? So go and follow my twitter page, Brian_Cronin!
COMIC LEGEND:
Confusion over a lettering direction nearly resulted in a hilarious mishap in a Namor comic
STATUS:
TRUE
One of the interesting side effects of Marvel's 1968 expansion of its comic book series (which involved giving all the characters who had previously shared anthology comics their own comics Sub Mariner, iron man and Nick Fury, Agent of SHIELD always brand new #1s while the Incredible Hulk, Captain America and Doctor Strange Keep numbering Stories to amaze, Stories of Tension and Strange Stories) was that Marvel suddenly had to hire new creators because it suddenly had a lot more pages to fill (a later expansion in the early 1970s, coupled with Stan Lee's retirement from comics writing, led to the launch of the careers of many notable comics writers such as Steve Englehart and Steve Gerber, among many others). This often also meant hiring veterans who simply never had the chance to cross over to Marvel before. One of those veterans was letterer Irving Watanabe.
TIED TOGETHER: Were Namor and Invisible Woman almost dating in the mid-1990s?
WHO WAS IRVING WATANABE?
Hitoshi Watanabe was born in Hawaii in 1919 before statehood (when he got into comics he changed his first name to Irving, which confuses me because why wouldn't he change his LAST NAME too?), became a staff artist/writer at Lev Gleason, and stayed there for years until the company eventually pretty much liquidated its employees before going out of business after the massive collapse of the Post-Comics Code Authority comic book. Watanabe then worked for DC and probably everywhere else he could find work before joining Marvel in 1968. He remained a regular at Marvel and wrote over 200 comics before his final Marvel work came out in late 1981.
He was in his early 60s at the time, so maybe he retired? I honestly do not know. If anyone else knows please let me know and I'll edit it into the piece. Watanabe died in 1993. Okay, by the time he joined Marvel he had already been writing comics for almost three decades, but as we'll soon see, sometimes it's the people who do it the longest, the ones who kind of fall into a routine that is so adamant that crazy things can happen if an author makes even a SLIGHTLY unusual request.
TIED TOGETHER: Was the first Namor/Human Torch Battle created over a crazy group weekend?
WHAT WAS ALMOST CERTAIN IN A SUB-MARINER ISSUE TOO EARLY IN WATANABE'S MARVEL CAREER?
Many years ago (like almost certainly 15+ years ago, that's what I mean by "many") I did a comic book legend revealed about an issue of GI fight where the editor said to drop an element on the cover an inch. Instead, "Drop an Inch" was on the cover like it was a comic book story…
Since they had some lead time from printing the cover to the inner workings of the corresponding cover, Robert Kanigher was then able to write a SUPER quick story called "Drop an Inch"…
In this case the problem appeared Sub Mariner #6, one of the first dozen comics written by Watanabe for Marvel…
The edition was drawn by John Buscema and Dan Adkins and written by Roy Thomas. In the introduction to Sub-Mariner Marvel Masterworks Volume 3Thomas shared a hilarious story about the last panel in the story:
#6 is the issue where writer Irv Watanabe…made a classic mistake that would have actually made it into the comic on a bad proofreading day. At the end of my script I typed: LETTER CARVED IN ROCK: IMPERIUS REX! Back then, the lettering work was often sent directly from the letterer to the inker. When the finished artwork arrived for proofing, I was spooked walking to that final panel. There it was, the above sentence in capital letters – all eight words of it – indeed written as if carved into the rock on which Namor stands. The first six words have of course been duly removed and the area redacted. It became a classic anecdote I've told many times when asked how closely the letterers read the scripts they were working from.
Pretty funny.
Thanks to Roy Thomas for the hilarious story!
WATCH A TV LEGEND REVEALED!
In the latest TV Legends Revealed – Did William Shatner Really Make $600 Million From His Priceline Commercials?
MORE LEGEND MATERIAL!
OK, that's it for this episode!
Thanks to Brandon Hanvey for the Comic Book Legends Revealed logo, which I don't actually do anymore, but I've used it for years and you still see it when you see my old columns, so it's fair enough to still thank him I guess I.
Feel free (damn it, I beg you!) to write us with your suggestions for future installments! My email address is [email protected] And my Twitter feed is http://twitter.com/brian_cronin, so you can ask me about legends there too! If you have a correction or a comment, you can also email me. CBR sometimes emails me with emails they receive through CBLR and that's fair enough, but the quickest way to get a fix through is to email me directly and honestly. I have nothing against corrections. Always best to make things accurate!
Here is my latest book 100 Things X-Men Fans Should Know And Do Before They Dieby Triumph Books.
If you want to order a copy, order it here gives me a referral fee.
Here is my second book Why is Batman wearing shark repellent? The cover art is by Kevin Hopgood (the man who designed War Machine's armor).
If you want to order a copy, order it here gives me a referral fee.
Here's my book of comic book legends (130 legends. – half of them are remastered classic legends that I've featured on the blog and the other half are legends never published in the blog!).
The cover is by the artist Mickey Duzyj. He did a great job there…
If you want to order it, you can use it this code if you want to send me a small referral fee.
Follow Comics Should Be Good on Twitterand further Facebook (Also, feel free to share suggestions for Comic Book Legends Revealed on our Facebook page!). Not only will you get updates when new blog posts appear on Twitter and Facebook, but you'll also get some original content from me!
Until next time!!