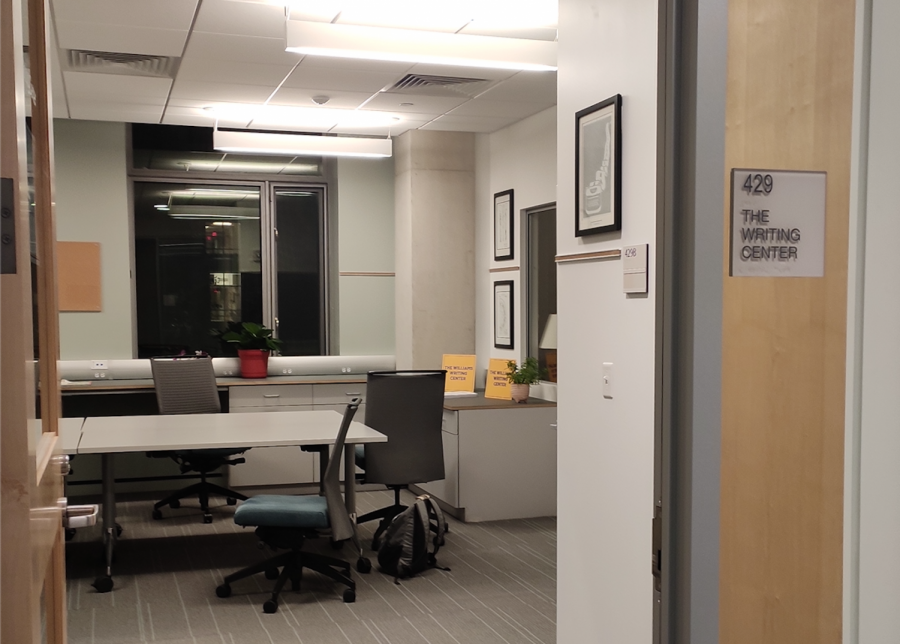 Peer Academic Support Network, Writing Center Moves to Sawyer – The Williams Record
In the days leading up to the video streaming, Sawyer 431, then called the Media Viewing Room, was the place where students played CDs and DVDs. Today it houses the Peer Academic Support Network (PASN).
This change is part of the recent move of PASN and the writing center from the second floor of the Paresky Center to the fourth floor of the Sawyer Library.
Writing Center acting director Julia Munemo said the main goal of the move is to put the tutoring services in places where students often do academic work. "The primary goal was to put us where students are when they have questions about writing and thinking in their class," she said. "Placing ourselves in a place where we can collaborate with research services and IT services … has really helped us be more accessible to students."
According to Laura Muller, Director of Quantitative Skills Programs and Peer Support, the move achieved the dual goal of providing students with a larger, distraction-free space for tutoring and learning, and giving PASN a cohesive identity. "Our offices didn't really allow tutoring near them, and prior to the pandemic, students were tutoring … everywhere," she said. "As a result, we felt like [the] The Peer Academic Support Network did not have an identity because it did not have a suitable space for it. We also found that tutoring in public places is wonderful, but it can also be noisy, so we wanted a quiet place. "
Munemo mentioned that the writing center was expanded to include the Schow Science Library as part of the move. "We really work with both libraries, and … for the same reason – to have people who can help with writing in the various disciplines, to be available where the students write," she said.
PASN is also present in Schow as it continues to operate from the two rooms it occupied before the pandemic – the Math & Science Resource Center in the Schow Library and the Economics Resource Center in the Schapiro Hall. This year, PASN is also offering Zoom lessons as part of a hybrid tutoring system where some tutors are available on Zoom and some tutors are personally available.
For Munemo, being in the same location as the writing center means better contact with the writing tutors. "Downstairs is the writing workshop and my tutors were always in Sawyer, so when I had my office in Paresky, I was very detached from them," she said. "Being much closer to them means that I can get in touch with them much more regularly."
Both Munemo and Müller said they are happy to be in places that allow them to interact with students more often. "I think it's nice to be able to go out of the office and talk to students, and that wasn't the case in the old rooms," said Müller.