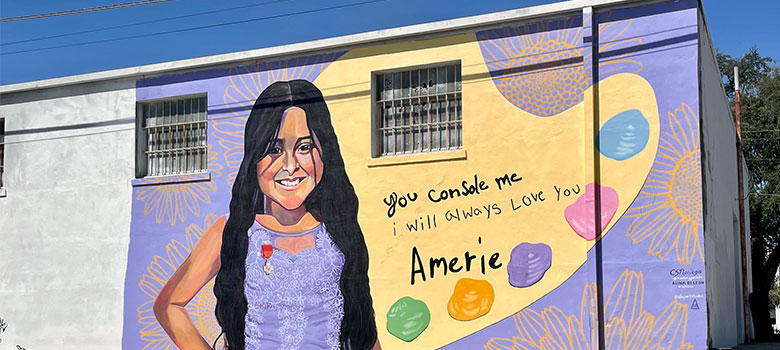 Several roadrunners help honor the Uvalde victims in the mural project | UTSA Today | UTSA
After the horrifying May 24 tragedy, Ortiz — who has been a part of the Uvalde community since 2003 after becoming a professor at Southwest Texas Junior College — knew he wanted to do something to help the community that nearly left him behind 20 years immediately embraced.
"The day after the tragedy, I looked at the reports and one of my former art students said: Kimberly RubioShe hugged her husband Felix who was being interviewed and he said, "These deaths will not be in vain. These students aren't going to be a number,'" Ortiz said. "That got me thinking about how I needed to take some form of action. And as artists, of course, we will think of art first."
Ortiz wanted to paint some murals on his gallery building, but after giving it further thought, he felt it was something that needed to be shared throughout the community.
Along with Collectors of Chicano/Latinx Art and Allies, a Facebook group for collectors of Chicano art, Ortiz reached out to the San Antonio Cultural Arts Center to publicize his initiative.
"As soon as they helped spread the word, I got responses from San Antonio and other areas in Texas," Ortiz said. "Eventually I got an answer from Monica Maldonado who runs a non-profit organization in Austin called MAS Cultura. We brought her on board as a project manager. She had many connections with muralists from across the state."
Twenty-one portrait muralists from across Texas, along with dozens of artist assistants, come together to contribute to this project, including several roadrunners such as the San Antonio muralist Ana Hernandez '17Artist Gabi Magali '20 and Alina de Leona current UTSA Fine Arts student and native of Uvalde.
---
---
---
---
"I was working on another mural when Monica came over and gave me and the other muralist her card. She then talked to us a bit about the project," De Leon said. "I later saw that Abel Ortiz was also involved, so I knew I had to reach out to him and let him know that I'm not a (professional) muralist, but I'm an artist and I can help in any way I can Way."
For De Leon, who once attended Robb Elementary, it was something she knew she had to contribute to this project.
"It's my church. I used to go into the same building when I was a kid," De Leon said. "I just had to help somehow. I make art and I know that art can heal in different ways. I felt like if there was anything I could do to help, maybe we could help families alleviate even a little of their pain."
Each artist was commissioned to capture one of the 21 people with the blessing of their families, Ortiz said.
"We couldn't do any of these murals if we didn't have the blessings of the families first," Ortiz said. "We waited until the last funerals were over to reach them. We provided background forms for families to fill out if they were willing to give us permission to paint. They provided photos and information about the person."
The artists then created a sketch using the forms and photos and submitted it to the project committee for approval.
De Leon collaborated with San Antonio muralists Christina Noriega to complete the Amerie Jo mural.
"I helped with the dress detail that Amerie Jo wore, blocking out color and just other small pieces here and there," De Leon said.
The mural features the 10-year-old in her favorite lavender dress and the bronze cross she was awarded posthumously by Girl Scouts for her incredible courage in dialing 9-1-1 during filming. Amerie Jo is surrounded by sunflowers – her favorite flower – and an artist's palette because she loved art.
Maite's mural, designed by Hernandez with assistance from Magaly, shows her seated on a stack of books surrounded by an array of colorful coral fish and other marine life. The artists were inspired by a photo of Maite that her mother had taken Ana Rodriguez, and the child's deep love for aquatic life.
"I was honored to work on Maite's mural because I could see her family looking up and smiling at her," Magaly said. "That means the most to me. I just hope that somehow this helps them heal and that their memory and image will live on through this mural.
---
---
---
---
According to Ortiz, as the artists continue to spend their weekends completing murals, they are already having a heartfelt healing effect on those who see them.
"We had a truck driver and his family look at Teacher's mural Eva Mireles on the way to Houston. His wife got out and said: "There is light in Eva's face. There's a glow coming out of her face that you caught,'" Ortiz said. "It's that connection to the community that these murals will have that will last for a very long time. People cried when they saw her. Some family members walked by and cried in front of the mural."