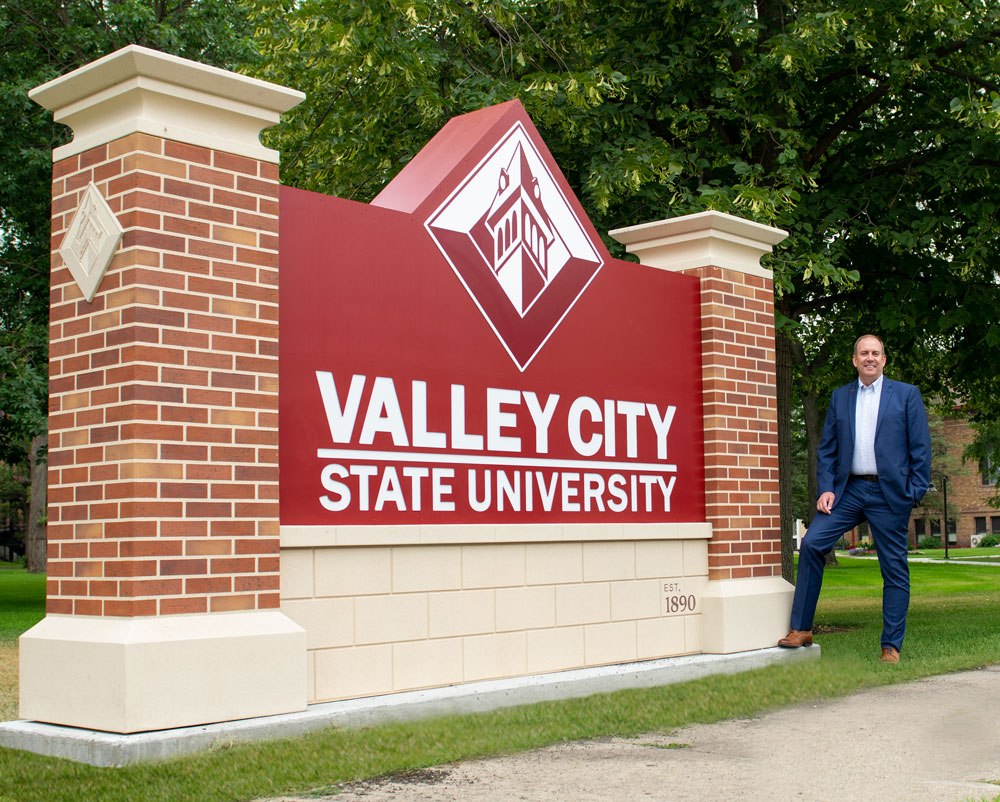 Welcome new faculty | Valley City State University
The beginning of each new year is filled with excitement and anticipation. Some of that excitement was on full display last week during our annual Marketplace event on the campus lawn. This has been a great time for our students to learn about the wealth of campus and community organizations available to them. The atmosphere was festive and the weather fully cooperated for an enjoyable evening.
The start of the new year also brings new faculties to our community. We are very pleased to welcome fourteen new faculty members this fall. Please join me in welcoming this highly qualified and distinguished group of educators to the Valley City campus and community. They are thrilled to be here and we look forward to them sharing their unique skills and experiences with students and colleagues alike. Some of them shared some personal tidbits that are listed below.
The Department of Computer Systems and Software Engineering welcomes Bhavana
Bhardwaj as a new assistant professor. Originally from India, she got the BS from the
University of Delhi, the MS in Information Technology from Sikkim Manipal University and the Ph.D. in
Software Engineering from North Dakota State University. She loves to cook and bake.
Mary Anderson joins the School of Education by special appointment
assistant professor. She has a BS in Elementary Education, a secondary endorsement in English
Arts, an ND literacy certificate and an MS in Reading from Minnesota State University, Moorhead. We are
is pleased to welcome a faculty member of outstanding experience to our School of Education.
Our business department welcomes two new faculty members. assistant professor
Peter Amah joins us from Seattle and will teach as a Business Generalist and in
Business Education. Originally from Nigeria, he holds three Masters degrees from Fordham University,
Catholic University of America and the University of Washington, Bothell. His Ph.D. in leadership studies
is from Gonzaga University.
Wesley Wright has a Bachelors in Accounting and a Masters in
Accounting from Brigham Young University and an MBA from Florida State University. He teaches
Courses in Accounting, Macroeconomics and International Business. It is a third generation university
Professor. His grandfather taught at BYU, his uncle teaches at the University of Calgary, and his father
teaches at the NDSU.
The Language and Literature Department welcomes two new faculty members. Emily
Wicktor joins us as Associate Professor of English. She holds the Ph.D. in English from the
University of Kansas and teaches writing, composition and grammar courses
Analysis and British Literature. She was a competitive springboard and platform jumper for 13 years
Club and high school dive instructor for several years.
Travis Knapp is an Assistant Professor of English and holds a BA degree
from Oklahoma State University in History and English, an MA in English Literature and a Ph.D. in English
Literature from both the University of Missouri. When asked about his move to VCSU, Travis says:
"Having spent my entire professional life at major research universities, I look forward to spending money there
Time in a closer community where I can get to know most of the people I interact with
regularly. I also look forward to discovering what North Dakota has to offer in terms of nature, hiking trails and more
parks!"
Three new faculties join the Department of Kinesiology and Human Performance.
Markus Kopporiginally from Bismarck, comes to us as a special appointment assistant
Professor. He received his BS in Exercise Science from North Dakota State University and his MS in
Kinesiology from the University of Mary.
Barbara Mattson is a special appointment of new assistant professor in KHP
Teaching in the fields of sports management and sports leadership. She has an Associate of Arts from Snow
College, a BA in Human Performance and Physical Education with a concentration in Exercise Science and Sport
Administration and an MA in Sports Administration and Coaching.
Amber Thompson joins our KHP department as an assistant professor for
physical education and health education programmes. Her bachelor's degrees are from St. Edward's
University and are in Kinesiology and Business Administration. She has a master's degree from Sam Houston
State University (curriculum and instruction) and the University of Texas, Pan-American (kinesiology). she
is currently pursuing a Ph.D. in Health and Human Performance from Concordia University, Chicago.
Joining our Faculty of Mathematics as an assistant professor is ben
note boom. He holds BS, MS and Ph.D. in mathematics all from NDSU. He spent the last 8
years teaching math at NDSU while pursuing his graduate degrees. He also majored in vocal music
during his bachelor's degree, so looks forward to singing with the concert choir once he's settled in
the new position.
The Music Department welcomes two new special appointment faculty members:
Stephen Cunningham and Oswald (Ozzie) Johnson. As an assistant professor of singing and hearing
Skills, Stephen received his BMA from the University of North Texas and his MM from Oklahoma State
University in Vocal Performance and Pedagogy and the DMA from the University of Minnesota, Twin Cities.
He spent 5 weeks last summer teaching and performing several operatic roles at La Musica Lirica Opera
Program in Novafeltria, Italy.
Oswald (Ozzie) Johnson is the new assistant professor of music (piano).
His BM is from Wheaton College, IL, and he has the MM in piano playing and pedagogy from Ohio
University, OH and the DA in Piano from Ball State University, IN. Besides his teaching
Duties he will serve as a collaborative pianist for the department.
Trista Montgomery joins the Department of Science as a special
Appointment to assistant professor. She holds a BS in Psychology, a BA in Biology, and an MS in Biology
a major in Forest Ecology from Bemidji State University. When asked about a moment that shaped her
Future career, she shared, "As soon as I found out my favorite science professor was climbing trees
After doing his research, I knew exactly what I wanted to do – and that was climb 100 foot white pines
In the middle of winter, in the middle of the night – collecting measurements." She looks forward to taking it
in the first week with her VCSU students in the surrounding prairies to collect plants for our own herbarium
of classes.
Luis Alejandro Betancur Echeverrybut everyone calls him
lando, is the new Spanish teacher with special appointment. He holds a master's degree from EAFIT in
Medellin, Colombia, a BS in Spanish from Valley City State University and a BA in Advertising from the
Universidad Pontificia Bolivariana in Colombia. His service as a language consultant in Forest Lake, Minnesota
changed his life because it was there that he realized he wanted to be a teacher. We are happy
welcome Lando back to VCSU.
The impressive backgrounds, experiences and testimonies of this new group of faculty members represent a strong addition to our teaching and learning community at Valley City State University. I will post the list of our new staff in the next update from the Office of the President.
Welcome, new faculty members. Go Vikings!