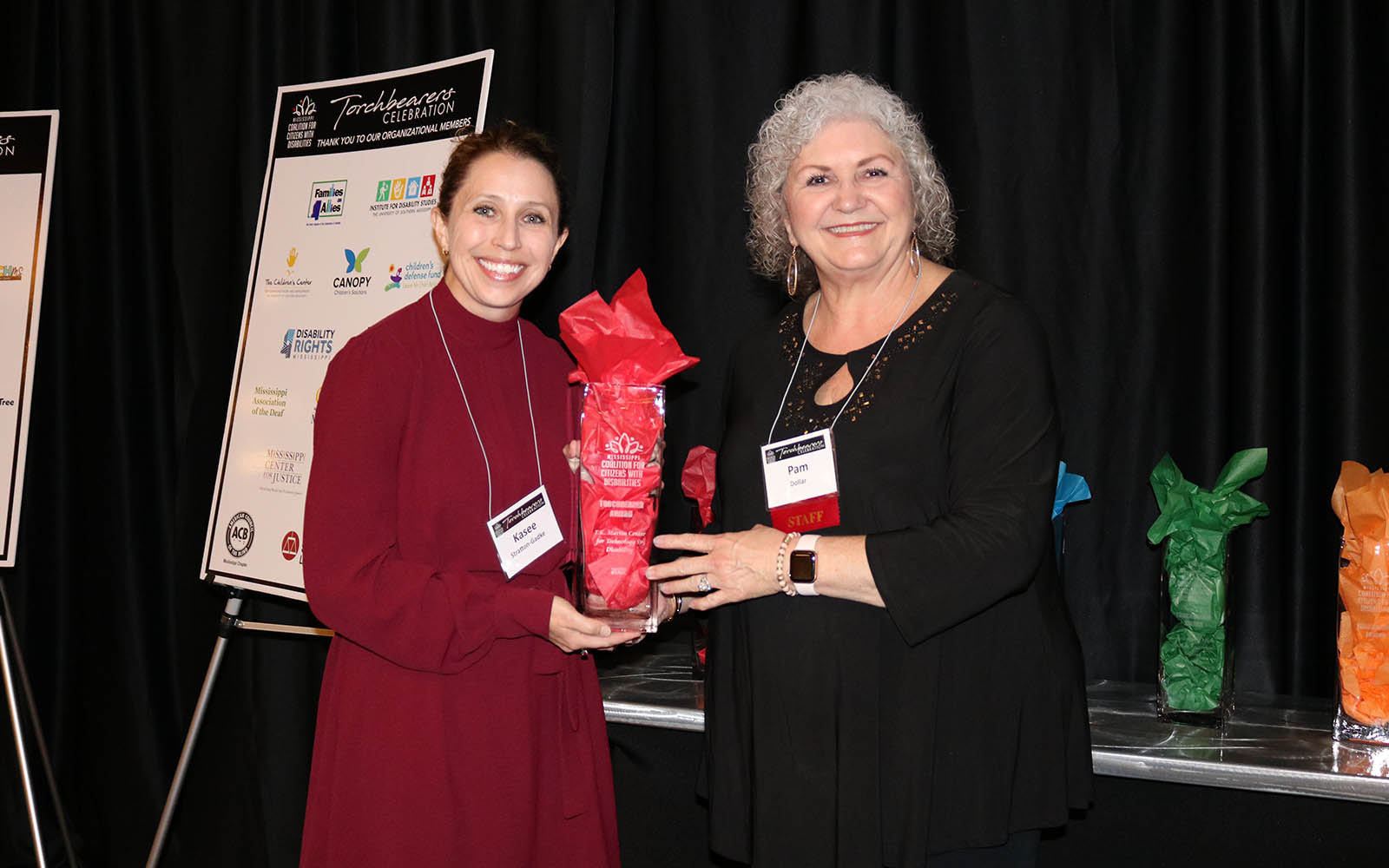 The nationwide organization names MSU's TK Martin Center a Torchbearer honoree for transforming lives
Contact: Harriet Laird
STARKVILLE, Mississippi – The TK Martin Center for Technology and Disability in Mississippi has "carried the torch for years" by advocating for people with disabilities and working on solutions to transform their lives.
This work, and the center staff who carry out it, will be recognized with this year's Torchbearer Award from the Mississippi Coalition for Citizens with Disabilities. The announcement was made at the MSCCD Annual Celebration in Ridgeland recently.
TK Martin director Kasee ​​Stratton-Gadke accepted the honor on behalf of the center in the university's College of Education.
"Receiving the Torchbearer Award is a true honor for the TK Martin Center and a testament to our exceptional staff and their work," she said. We have been serving people with disabilities for 26 years and each student, client and family has taught us so much. We greatly appreciate this honor from MSCCD and look forward to carrying the torch far into the future."
The Center maintains a state-of-the-art clinical, research and training program that focuses on modern technologies in a comprehensive and integrated manner to meet the needs of people with disabilities, regardless of age. At its core, the center works to ensure that people with disabilities can continue to benefit from these educational and technological solutions and advances in the field of assistive technology and disability.
TK Martin integrates assistive technology into the many programs it offers, including Project IMPACT, preschool center-based services and play-based assessment; Express yourself! Art, a program that encourages individual expression through artistic work; IGNITE Dyslexia Services/Reading Clinic, strategic learning that helps build a love of reading and writing; and Psychological Assessment and Applied Behavior Analysis, or ABA, intervention for people with Autism Spectrum Disorder and Associated Delays.
Teresa Jayroe, Dean of the College of Education said, "I would like to thank the MSCCD for presenting the Torchbearer Award to the TK Martin Center. dr Kasee ​​Stratton-Gadke and her staff support MSCCD's mission by providing services and support to children, youth and adults with disabilities that improve their quality of life. We are honored to receive this award and will continue to work to improve the lives of people in Mississippi with disabilities."
The center joins three other organizations receiving this honor, the Greenwood-Leflore Autism Spectrum Society, Abbie Rogers Civitan Camp in Hattiesburg, and the South Central Community Action Agency in Jackson. Individual Torchbearer honorees include Martie Kwasny of Madison and Dwight Owens of Taylorsville.
MSCCD is a private, non-profit, multi-disability organization founded in 1989. Its mission is to expand opportunities and improve the quality of life for children, youth and adults with disabilities and their families, and to empower these people to achieve their best potential in all walks of life.
To learn more about MSU's TK Martin Center for Technology and Disability, visit www.tkmartin.msstate.edu/.
MSU is Mississippi's premier university, online at www.msstate.edu.