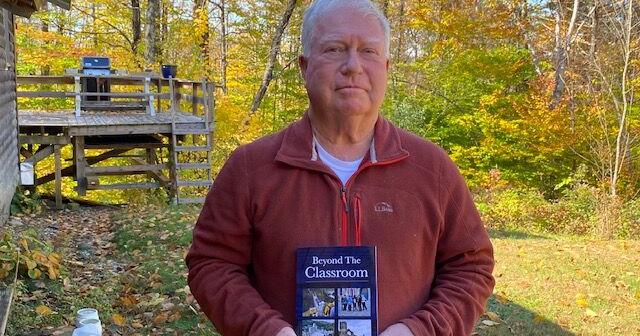 Outstanding in his field: long-standing BUHS teacher goes "over" school walls in new book | local news
DUMMERSTON – Those of us of a certain age may remember a television show called "You Are There," hosted by trusted host Walter Cronkite, in which key events in the story were given the "modern" news treatment, complete with interviews by eyewitnesses and participants. If you wanted to know what Socrates said before you drank the poisonous hemlock, you are there to hear it.
This sense of "being there" with historical events has always appealed to longtime Windham County educator William "Bill" Holiday, who has explored the concept throughout his nearly 50 years as a middle school, high school, and college teacher used college. Now, two years after retiring from Brattleboro Union High School, he's written a book about it — titled Beyond the Classroom — a guide to teaching history through full immersion and interaction with the people, events, and places that have existed shaped the human condition.
"When I graduated high school (at BUHS), I was very aware of American history, and I remember saying, 'God, I wish I could have been on the Gettysburg battlefield to see this, and in many other places,'" Holiday said. "It lured me. So I really think that was the impetus. I never wanted to stay within the four walls of the classroom."
Throughout his teaching career, Holiday offered students educational trips, which he called "field studies." His student groups traveled to Alabama in the 1960s to interview civil rights leaders or to Dallas to study the assassination of John F. Kennedy. Others have traveled to Boston, Washington, DC, Gettysburg and England.
He taught students who said they had heard about 'The Troubles' in Northern Ireland but didn't understand what it was about. So they traveled to Belfast and Derry/Londonderry where they met and interviewed Protestant Unionists and Catholic Nationalists.
As he writes in the book's foreword: "If I had a utopian opportunity, the teaching would never take place in a classroom. It would be 'out there' on the street in a bus, a van, something that takes us to where things happened."
The idea for the book actually began with a trip to Ohio to mark the 40th anniversary of the Kent State University shootings in 1970. He asked the reformer if he could write an article about it and was given a press pass to cover the events .
"I was determined to go there," he said. "I had met Alan Canfora (one of the survivors of the shooting) who came to my classroom to talk to the students; He felt as if he had been specifically targeted by the National Guard. While I was (in Kent State) I interviewed a sister of one of the people who was shot that day. I met John Filo, who won a Pulitzer Prize for his photograph of the girl kneeling in despair over the body of one of the victims.
"I wasn't writing a book at the time, but that's what led to it. I acquired resources for my students to use. For a non-textbook teacher, that was invaluable."
Holiday said he has not used a textbook in his classes since 1973. He focused on bringing history to life for his students and helping them understand what it was like to experience specific events. He and his students organized week-long "teach-ins" that brought in speakers who had experienced the story. For a study on the Vietnam War, he hosted panels with veterans, conscientious objectors and anti-war protesters.
He taught a course called Film Music and History Social Studies Seminar and worked with students on a weekly radio show called Tracking the Tracks, which aired on WTSA. It was a 30-minute presentation of music that translated and shaped the story, including politically dynamic or culturally significant songs by the likes of Stevie Wonder, Bob Dylan and Van Morrison.
He used a "constructivist" approach to teaching that allowed his students to experience the world and reflect on those experiences, rather than just passively absorbing information. He also incorporated other subjects—such as math, science, and art—into his Living History classes.
"I worked for Keene State College and Castleton University during the summers," he said. "I would put together a travel course and we would travel to England, Italy, Greece, Republic of Ireland, Northern Ireland, Cuba, south for the civil rights movement. These people would do projects for their credits. I didn't let her write any papers. I wanted them to make something that they and other people could use."
It's all in the book, a pretty paperback volume packed with black and white photographs, most of them taken by Holiday himself. Former BUHS colleague Nancy Olson helped with the editing and proofreading, as did his wife Lyle, a former Windham Southeast District school principal. At first he wanted the book to be more or less strictly about history, but his wife encouraged him to change directions.
"[Lyle]looked at it and said, 'You need to do more for the teachers.' To me it was intuitively obvious: you can do this, you can learn history, or you can learn art or science outside of a classroom, and she said, "I don't think they intuitively get it." So the last part of this book contains ideas for educators, whether private, public or at home. There are even a few things here that are designed for virtual learning."
The book is now available digitally through BookBaby publishers and other e-book retailers such as Barnes & Noble and Amazon, or in physical form at area bookstores including Everyone's Books in Brattleboro.
Holiday is also a researcher and writer for the Brattleboro Historical Society and writes a weekly column for The Reformer. He began the book just after his retirement more than two years ago, but had some medical setbacks that delayed its realization. He said he's no Ernest Hemingway as a writer, but he hopes the book will serve two markets – both those interested in history and those interested in his integrated approach to history teaching.
"It's very gratifying that it's completed," he said. "If it goes down well, that's a bonus."